CCFI FLEET OFFICERS MEETING 2019
Date Posted: 05-Dec-2019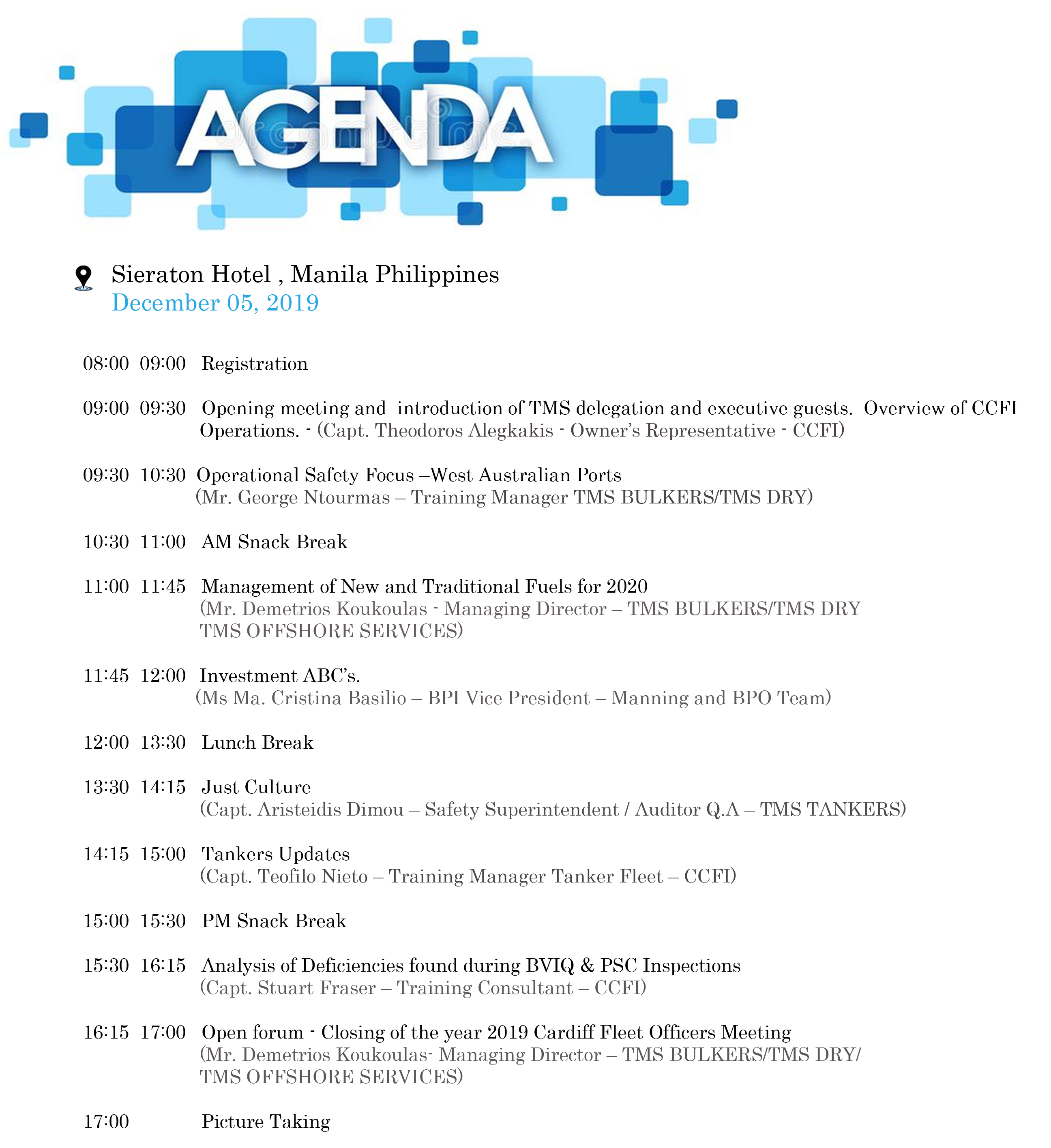 On Thursday December 5, 2019, Cardiff Crewing Filipinas Inc. on behalf of its principals, TMS Bulkers, TMS Dry, TMS Offshore Services, TMS Cardiff Gas and TMS Tankers held a Fleet Officers Meeting at the Sheraton Manila Bay Hotel.
Despite the rather inclement weather, 80 officers and 25 cadets attended the event from tanker and bulker fleets. This was the 5th event hosted by CCFI and the TMS Group this year.
The meeting was opened by Capt. Theo Alegkakis, Owner's Representative at CCFI, who welcomed the participants and introduced the TMS delegation from Athens which consisted of five persons. He followed with a presentation on CCFI's performance which showed a continued growth in the number of seafarers deployed and a high retention rate across both tanker and bulker divisions.
Following Capt. Theo's presentation George Ntourmas, Training Manager of TMS Bulkers and TMS Dry, delivered a presentation on Operational Safety focusing on west Australian ports based on feedback from PSC, BVIQ inspections as well as operational information from the ports.
Finally before the lunch break Mr. Demetrios Koukoulas, Managing Director of TMS Bulkers, TMS Dry and TMS Offshore Services, delivered an informative presentation on the Management of New & Traditional fuels for 2020 and ways to mitigate problems likely to be encountered.
Following the lunch break Capt. Aristedes Dimou, Safety Superintendent of TMS Tankers, delivered a presentation on Just Culture and how to develop a just culture on board with open reporting and sharing of information from lessons learned following incidents at sea. This was backed up by Capt. Teofilo Nieto who spoke about the observations found during recent vetting inspections and the ways to avoid reoccurrence.
Following the afternoon break Capt. Stu Fraser delivered a presentation on some of the recent PSC and BVIQ observations of Dry division vessels.
The meeting was closed by Mr. Demetrios Koukoulas with a question and answer session.