CCFI FLEET RATINGS FORUM 2019
Date Posted: 23-Sep-2019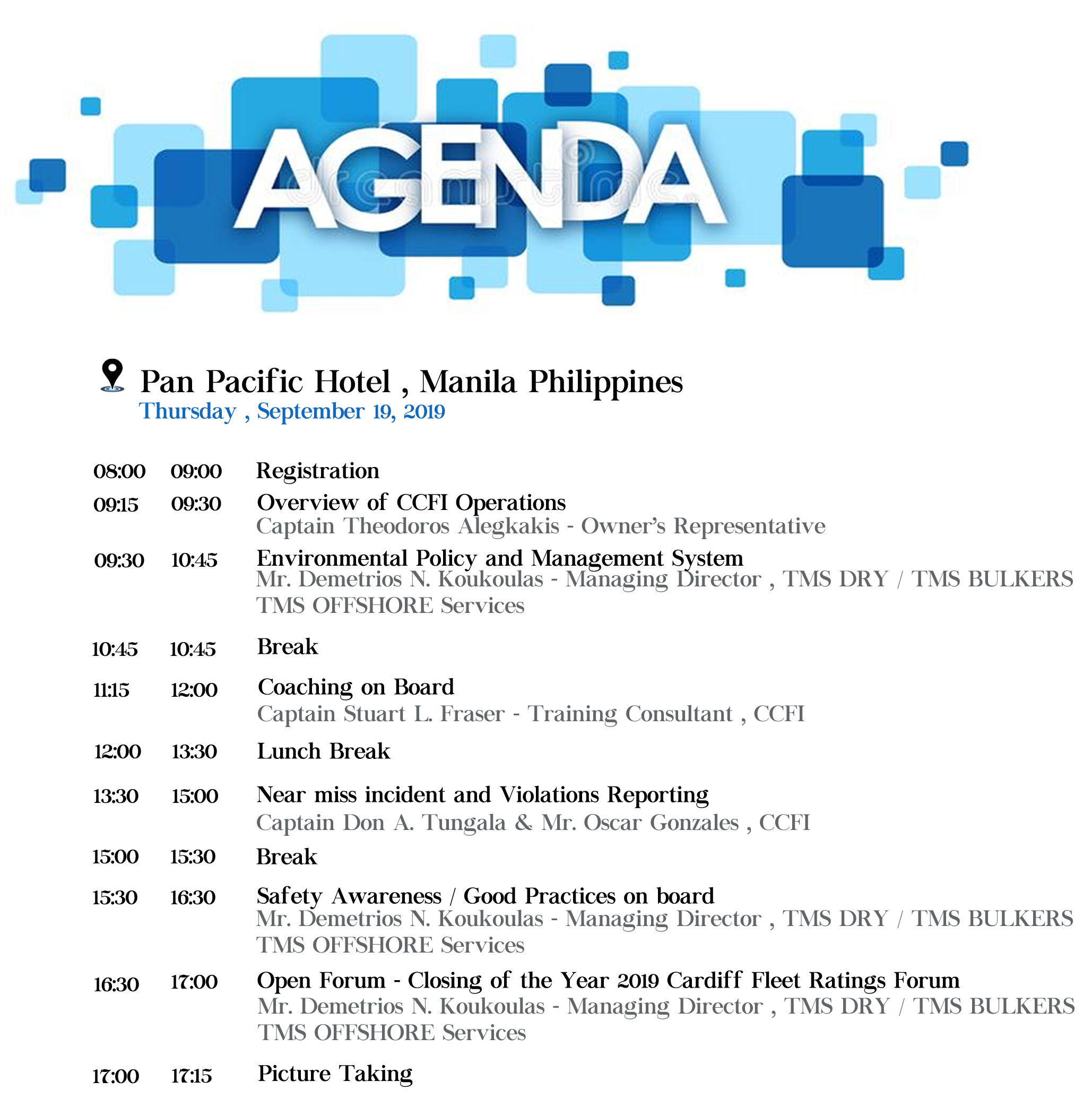 On Thursday 19th September 2019, CCFI held our first forum & seminar tailored specifically for our ratings, about 100 participants attended the gathering about 50% from the tanker and gas tanker fleet and 50% from the bulk carrier fleets. Despite the rather inclement weather the crew of all ranks and departments traveled to the Pan Pacific Hotel from all over the country.
Captain Theo Alegkakis opened the meeting with a short presentation on the current status of CCFI. We have a total of 62 management and staff employed at our agency, with 119 vessels accredited at the POEA. At the end of August we had 1,938 Filipinos serving throughout the fleet, with a retention rate of between 86% & 91% officers and ratings. We expect to have dispatched about 3,250 Filpino seafarers to join our vessels over 2019, which is an increase of about 100 over last year.
Mr. Demetrios Koukoulas Managing Director of TMS Bulkers/ TMS Dry/ TMS Offshore Services and a Director of CCFI was over from Athens and made 2 presentations to the audience regarding our environmental policy and the need to keep vigilant and continuously apply correct procedures on board, the second presentation looked at good and bad practices and the message that following good practices and good housekeeping leads to fewer incidents and accidents and to better port state control performance.
Capt Stu gave a brief introduction to our coaching program on board which we started in May this year, Maria Cristina Basillo Vice President for the marine sector of BPI then gave 15 minutes to explain the features of the new BPI Debit card and online / mobile banking services. Following a very delicious lunch Capt Don & Oscar Gonzales conducted an interactive learning session on MLC Complaint procedure, near miss / violation reporting and some of the cultural reasons that create barriers to reporting for Filipinos.
We were graced with the presence of Peter Yoon & David Lee, the President and Senior Director of Panasia in South Korea, who manufacture the exhaust gas cleaning systems we are retrofitting throughout our fleets.

Message from Mr. Demetrios N. Koukoulas :
I would like to thank all the attendees and the organizers of this well prepared and arranged Forum which is the first of many to come.
I am pleased to have the opportunity to participate in this event and to note once again the strong commitment of our seafarers to work together effectively to achieve our shared goals of improving the safety, efficiency and environmental performance of our ships.
I assure you that CCFI remains committed to offering quality services to its seafarers with key concern their well-being.
I look forward to seeing you again at next years' event.